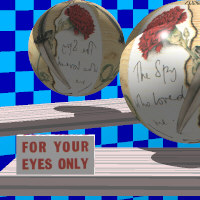 krofchok.com
A selection of websites irregularly maintained by Bryan Krofchok:
Sacramento Historic City Cemetery - Database Project: A searchable database of persons buried in Sacramento's City Cemetery.
Bondian.com (perpetually in redevelopment): An extensive reference guide with information on more than 400 different titles related to James Bond 007 and his creator, British author Ian Fleming.
Grandmothers for Peace International: Provides information on peace and justice issues worldwide. GFP is a non-profit organization founded in 1982, and is based in Elk Grove, California.
Newton-Raphson Method Fractals: A collection of fractal images obtained by applying the Newton-Raphson Method to various polynomial equations.